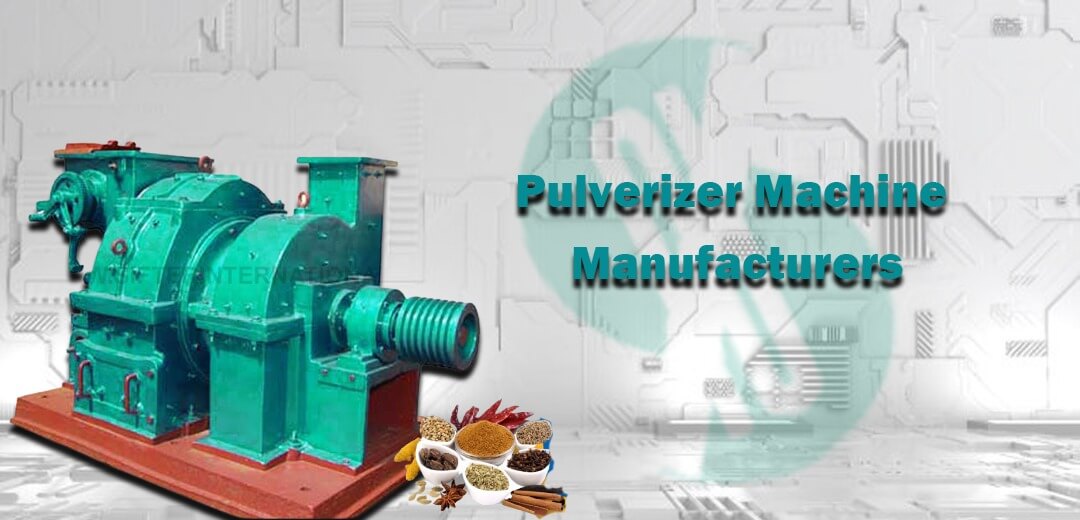 In the world of industrial machinery and equipment, pulverizer machine manufacturers play a vital role. These experts are responsible for designing, developing, and producing machinery that is crucial to various industries. Pulverizer machines are widely used in sectors such as agriculture, pharmaceuticals, food processing, and more. Their importance cannot be overstated, and in this blog, we'll explore why becoming a pulverizer machine manufacturer is a skill that's in high demand.
Understanding Pulverizer Machines
Before we delve into why being a pulverizer machine manufacturer is an essential skill, it's important to understand what these machines are and how they function.
Pulverizer machines are used to reduce large solid materials into smaller, finer particles. These machines utilize a combination of mechanical processes, such as grinding, crushing, and impact, to achieve this. They are capable of handling a wide range of materials, from minerals and chemicals to food products and pharmaceuticals. The key components of a pulverizer machine include a grinding chamber, a rotating hammer or blade, and a motor to drive the mechanism.
Key Applications of Pulverizer Machines
Pulverizer machines find applications in various industries, and their versatility makes them an indispensable tool in the following sectors:
1. Agriculture
Farmers and agricultural industries use pulverizer machines to crush crop residues and other organic materials for better soil conditioning and nutrient availability.
2. Pharmaceuticals
The pharmaceutical industry relies on pulverizer machines to break down active pharmaceutical ingredients (APIs) into fine powders for the formulation of tablets and capsules.
3. Food Processing
Food manufacturers use pulverizer machines to grind ingredients, such as spices, herbs, grains, and more, to create various food products.
4. Chemicals
In the chemical industry, pulverizer machines are employed to reduce the particle size of various chemical compounds, improving their reactivity and dispersibility.
5. Recycling
Pulverizer machines are also crucial in recycling facilities, where they are used to reduce waste materials into manageable sizes for further processing.
The Importance of Pulverizer Machine Manufacturers
Now that we have a clear understanding of what pulverizer machines are and their applications, let's delve into why becoming a pulverizer machine manufacturer is a skill of paramount importance.
1. Meeting Industry Demand
The demand for pulverizer machines continues to grow as various industries expand. With the world's population increasing, agriculture and food processing industries need efficient machines to meet the rising demand for food. Additionally, the pharmaceutical industry's ongoing development fuels the need for specialized pulverizer machines. Manufacturers of these machines are, therefore, crucial to keeping these sectors operational.
2. Customization and Innovation
Pulverizer machine manufacturers are at the forefront of innovation in industrial machinery. They design and create machines tailored to specific industry needs. These machines are continually evolving to become more efficient, eco-friendly, and adaptable. Manufacturers often work closely with clients to develop custom solutions that improve production processes and overall efficiency.
3. Quality Control and Standards
Manufacturers are responsible for ensuring that pulverizer machines meet industry standards and safety regulations. They must produce machines that are durable, reliable, and easy to maintain. Consistently adhering to these standards is essential to building trust with clients and maintaining a reputable brand.
4. Job Creation and Economic Impact
Becoming a skilled pulverizer machine manufacturer not only benefits the individual but also contributes to the economy. Manufacturers provide jobs for skilled workers, engineers, and technicians. Furthermore, they generate economic value through the sale and export of machinery.
5. Environmental Sustainability
In an era where environmental sustainability is a top priority, pulverizer machine manufacturers have a significant role to play. They are responsible for developing machines that are energy-efficient and produce minimal waste. This contributes to the overall efforts to reduce the environmental footprint of industries that rely on pulverizer machines.
How to Become a Skilled Pulverizer Machine Manufacturer
Becoming a skilled pulverizer machine manufacturer is a journey that requires a solid educational foundation and practical experience. Here are the key steps to follow if you aspire to enter this field:
1. Education: Obtain a relevant degree in mechanical engineering or a related field. This will provide you with the necessary technical knowledge and skills.
2. Gain Practical Experience: Seek internships or entry-level positions with established machinery manufacturers. This hands-on experience is invaluable in understanding the intricacies of machine design and production.
3. Specialize: Consider specializing in the design and manufacture of pulverizer machines. This specialization will make you an expert in this niche field.
4. Stay Updated: Continuously educate yourself about the latest advancements in machine design, materials, and technology to stay at the forefront of innovation.
5. Network: Build a network within the industry to learn from experienced professionals and to explore potential collaborations.
Conclusion
In conclusion, the role of a pulverizer machine manufacturer is undeniably pivotal in our ever-evolving industrial landscape. These experts, exemplified by companies like "Sifter International," stand at the forefront of innovation, meeting the burgeoning demands of various industries. Their commitment to ensuring quality and safety standards, creating employment opportunities, and contributing to environmental sustainability cannot be overstated. If you have the passion and dedication to pursue a career as a skilled pulverizer machine manufacturer with a company like "Sifter International," you can anticipate a fulfilling journey that makes a meaningful impact on society and the economy.