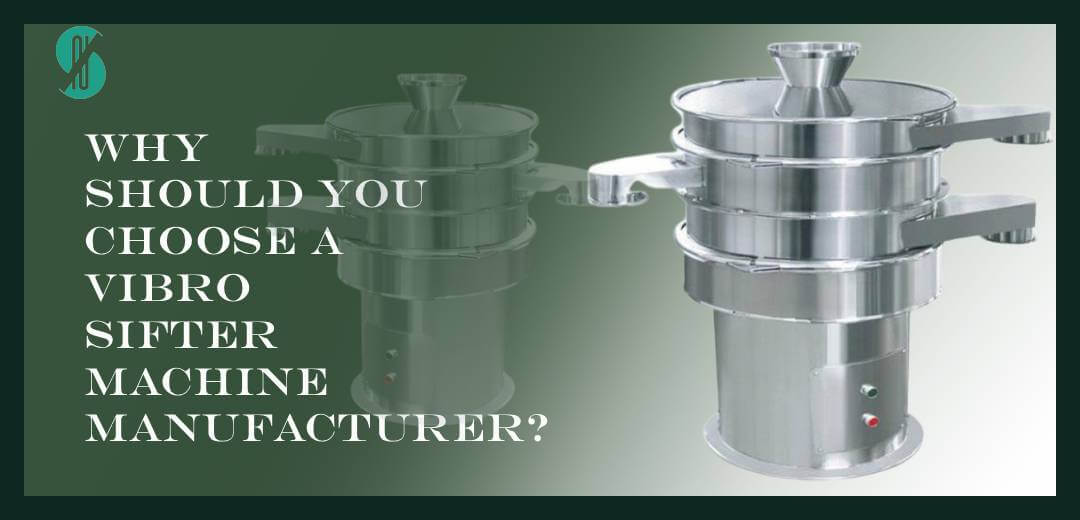 In today's rapidly evolving industrial landscape, precision and efficiency are paramount. Industries ranging from pharmaceuticals to food processing, chemicals to ceramics, all demand the highest standards of quality and safety. Central to achieving these standards is the utilization of advanced machinery, and one such essential piece of equipment is the vibro sifter machine. When it comes to selecting the right vibro sifter machine for your business, choosing the right manufacturer is a crucial decision.
This comprehensive guide delves into the world of vibro sifter machines, exploring their significance, applications, and why selecting a reputable vibro sifter machine manufacturer, like Sifter International, is imperative.
Understanding Vibro Sifter Machines
Before we delve into the reasons for choosing a reputable manufacturer, let's gain a clear understanding of what vibro sifter machines are and their primary functions.
A vibro sifter, also known as a vibrating sieve or screener, is a highly versatile and efficient machine used for the separation, grading, and screening of powders, granules, and liquids in various industries. The key components of a vibro sifter include a motor that generates vibrations, a screen or sieve to classify materials based on size, and a collection tray or outlet for separated particles.
The fundamental principle behind the operation of a vibro sifter is the application of controlled vibrations to the screening surface. As the material is fed onto the vibrating screen, it passes through the sieve, separating particles based on size. This process ensures the removal of oversized or undersized particles, resulting in a product that meets the desired quality standards.
Applications of Vibro Sifter Machines
Vibro sifter machines find widespread applications across a multitude of industries due to their efficiency and versatility. Some of the key sectors where these machines are indispensable include:
Pharmaceuticals: Vibro sifters are used to screen and separate pharmaceutical powders and granules to ensure the quality and uniformity of the final product. They are crucial for complying with stringent regulatory requirements.
Food Processing: In the food industry, vibro sifters are used to separate impurities and foreign particles from ingredients, ensuring product purity and safety.
Chemicals: Chemical manufacturers rely on vibro sifter machines to classify and grade chemical compounds based on particle size, which is essential for consistent product quality.
Cosmetics: Vibro sifters help cosmetic manufacturers achieve precise particle size distribution in products like face powders and foundations.
Paints and Coatings: The paint and coating industry uses vibro sifter machines for sieving pigments and other raw materials to ensure smooth and consistent finishes.
Ceramics: In ceramic production, vibro sifters play a critical role in grading and classifying materials used in tile and ceramic production.
Metals and Minerals: Vibro sifters are employed to separate and classify metal powders and mineral particles for various industrial processes.
Agrochemicals: Agrochemical manufacturers use vibro sifter machines to screen and classify fertilizers, pesticides, and herbicides.
Why Choose a Vibro Sifter Machine Manufacturer?
Now that we have established the importance of vibro sifter machines across diverse industries, it's time to delve into the critical aspect of selecting the right manufacturer. Here are compelling reasons why choosing a trusted vibro sifter machine manufacturer is of paramount importance:
Quality Assurance: Reputable manufacturers adhere to stringent quality control standards. They utilize high-quality materials and precision engineering to ensure that their machines meet industry-specific regulations and produce consistent results.
Customization: A reliable manufacturer understands that each industry has unique requirements. They offer customization options, allowing you to tailor the vibro sifter machine to your specific needs, whether it's the type of material to be screened or the desired particle size distribution.
Technical Expertise: Established manufacturers have a team of skilled engineers and technicians with in-depth knowledge of vibro sifter technology. Their expertise ensures that you receive technical support, installation guidance, and troubleshooting assistance.
Durability and Reliability: Vibro sifter machines from reputable manufacturers are built to last. They are designed to withstand the rigors of continuous operation, minimizing downtime and maintenance costs.
After-Sales Support: Choosing a reputable manufacturer ensures access to comprehensive after-sales support. This includes spare parts availability, maintenance services, and expert assistance in case of issues or breakdowns.
Compliance and Certification: In industries like pharmaceuticals and food processing, regulatory compliance is non-negotiable. Established manufacturers ensure that their machines comply with industry standards and are certified for safety and quality.
A Trusted Vibro Sifter Machine Manufacturer
When it comes to selecting a vibro sifter machine manufacturer, Sifter International stands out as a name synonymous with quality, reliability, and innovation. Here's why Sifter International should be your top choice:
1. Experience and Expertise: With years of experience in the field, Sifter International has garnered a reputation for excellence. Their team of experts possesses in-depth knowledge of Vibro Sifter technology and its applications across various industries.
2. Customization: Sifter International understands that one size does not fit all. They offer a range of customizable options, allowing you to tailor the machine to your specific requirements, ensuring maximum efficiency and productivity.
3. Quality Assurance: Quality is at the core of Sifter International's ethos. Their vibro sifter machines are manufactured using premium-grade materials and cutting-edge technology, guaranteeing consistent and precise screening results.
4. Comprehensive Support: Sifter International provides comprehensive after-sales support, including installation assistance, maintenance services, and readily available spare parts. Their dedicated team is always ready to assist you with any technical queries or concerns.
5. Regulatory Compliance: Sifter International's machines are designed and built to meet industry-specific regulations, making them suitable for use in sectors with stringent quality and safety standards.
6. Innovation: Sifter International continually invests in research and development to stay at the forefront of vibro sifter technology. Their commitment to innovation ensures that you receive state-of-the-art solutions for your screening needs.
Conclusion
In a world where precision and efficiency are paramount, choosing the right vibro sifter machine manufacturer is a decision that can significantly impact your business's success. Vibro sifter machines are indispensable across various industries, and selecting a trusted manufacturer like Sifter International ensures that you receive high-quality, customized, and reliable equipment. With Sifter International, you not only gain access to cutting-edge technology but also benefit from their experience, expertise, and unwavering commitment to delivering top-notch solutions. When it comes to vibro sifter machines, Sifter International is the choice that guarantees quality, efficiency, and peace of mind for your industrial screening needs.