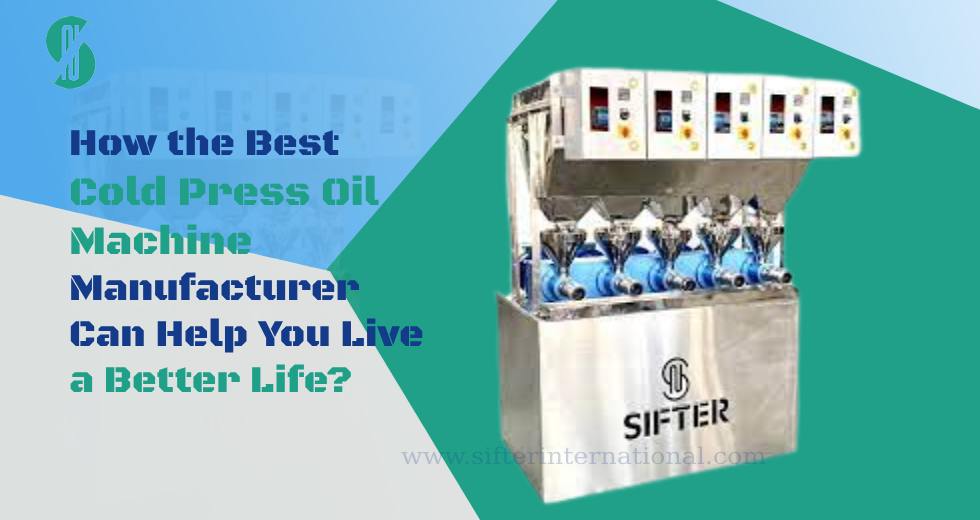 In recent years, there has been a growing trend towards healthier living and a renewed focus on natural and organic products. As part of this movement, the use of cold press oil machines has gained significant popularity. These machines offer a revolutionary way to extract oil from various seeds and nuts while preserving their nutritional value and flavor. In this article, we will delve into how the best cold press oil machine manufacturer can play a crucial role in helping you live a better life. From promoting health and sustainability to enhancing your culinary experience, these machines have far-reaching benefits that extend beyond the kitchen.
Preserving Nutritional Value
Cold press oil machines operate on the principle of extracting oil through a gentle pressing process, without the use of heat or chemicals. This method helps retain the natural nutrients and antioxidants present in the seeds or nuts. Unlike traditional methods that involve high temperatures, which can degrade the nutritional content of the oil, cold pressing ensures that essential vitamins, minerals, and fatty acids remain intact. Incorporating cold-pressed oils into your diet can contribute to overall well-being and better health.
Promoting Health and Wellness
The oils produced by cold press machines are known for their health benefits. For instance, cold-pressed olive oil contains higher levels of monounsaturated fats, which have been linked to heart health. Similarly, cold-pressed coconut oil retains its lauric acid content, known for its antimicrobial properties. These oils can be a valuable addition to your diet, supporting various aspects of your health, from cardiovascular health to immune system function.
Reducing Environmental Impact
Choosing a reputable cold press oil machine manufacturer can also align with your commitment to environmental sustainability. Cold press machines operate without the need for heat, which significantly reduces energy consumption compared to conventional oil extraction methods. Additionally, some manufacturers prioritize eco-friendly practices, using materials that are easy to recycle and minimizing waste during the production process. By opting for cold-pressed oils produced using environmentally conscious methods, you contribute to a greener and more sustainable future.
Encouraging Local Agriculture
The best cold press oil machine manufacturers often source their seeds and nuts from local farmers. This not only supports local economies but also encourages small-scale, sustainable agriculture. By purchasing cold-pressed oils from such manufacturers, you contribute to the growth of local farming communities and help maintain a diverse and resilient food system.
Enhancing Culinary Experiences
Cold-pressed oils are celebrated by chefs and home cooks alike for their unique flavors and aromas. These oils often have a more pronounced taste profile compared to their heat-processed counterparts. Whether drizzled over salads, used as a finishing touch on dishes, or incorporated into marinades, cold-pressed oils can elevate your culinary creations to new heights. Exploring the diverse range of cold-pressed oils available can ignite your passion for cooking and open doors to a world of gastronomic delights.
Promising Beauty and Skincare Benefits
The benefits of cold-pressed oils extend beyond the kitchen. Many of these oils, such as argan oil and jojoba oil, are sought after for their skincare and beauty properties. These natural oils are often used in moisturizers, serums, and hair care products due to their nourishing and rejuvenating effects. By choosing cold-pressed oils for your beauty regimen, you embrace a holistic approach to self-care that embraces the power of nature.
Supporting Innovation and Quality
Reputable cold press oil machine manufacturers invest in research and development to continuously improve their products. This dedication to innovation ensures that you receive a high-quality machine that delivers consistent results. The best manufacturers prioritize precision engineering, user-friendly design, and safety features, allowing you to confidently operate the machine and extract oils with ease.
Conclusion
Incorporating cold-pressed oils into your lifestyle is a step towards a healthier, more sustainable, and flavorful existence. Sifter International, as a leading cold press oil machine manufacturer, can expertly guide you on this transformative journey. Their innovative and high-quality machines not only preserve the nutritional integrity of oils but also align with your values of health and sustainability.
By choosing Sifter International's cutting-edge cold press oil machines, you not only enhance your culinary experiences but also support local agriculture and reduce your environmental footprint. The company's commitment to excellence and eco-friendly practices ensures that you can extract oils with ease, confidence, and a sense of contributing to a greener future.
So why wait? Embrace the cold press revolution with Sifter International and unlock a world of benefits for your health, your palate, and the planet. Elevate your well-being and culinary adventures while championing local communities and sustainable practices, all with the exceptional guidance and products provided by Sifter International.